Le Hellfest 2022 se tiendra cette année sur deux week ends, entre le 17 et le 26 juin 2022.
Premier week end du 17 au 19, deuxième du 24 au 26 juin.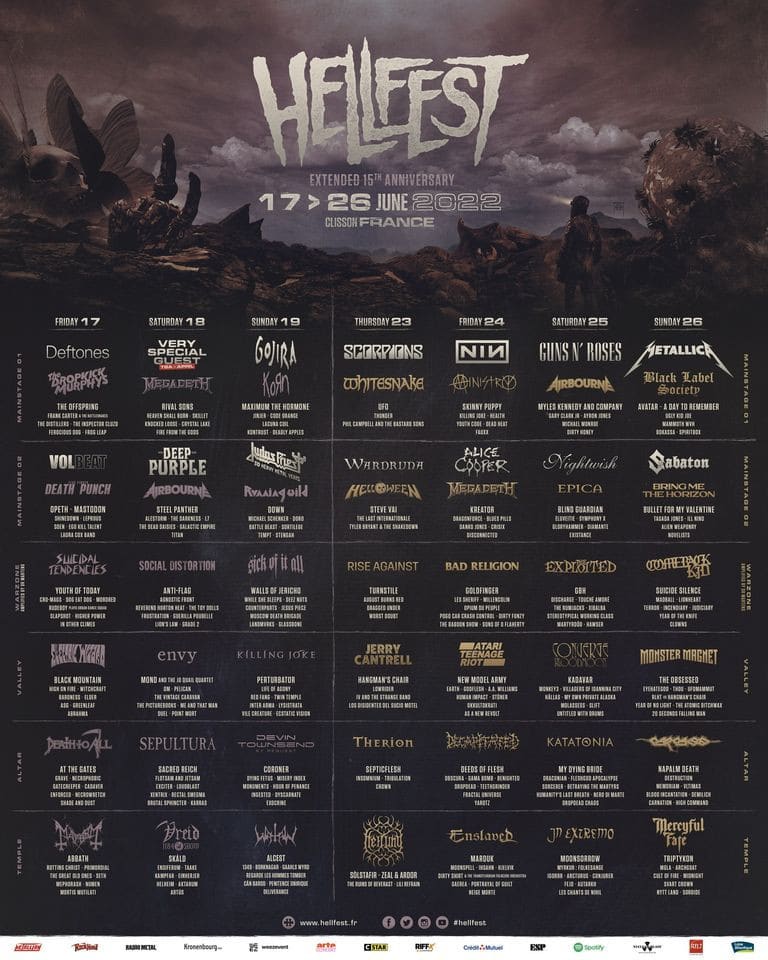 Nous vous proposons ci-dessous de découvrir le programme, qui s'annonce rock'n'roll et explosif, pour les retrouvailles des amateurs de ces styles musicaux avec leurs groupes favoris, après deux ans d'absence en raison des mesures sanitaires délirantes qui ont poussé l'organisation du festival à reporter.
Premier round donc du vendredi 17 au dimanche 19 juin 2022 à Clisson avec au menu des concerts de Dropkick Murphys, Offspring, Deftones, Volbeat, Korn, Megadeth, Judas Priest ou encore Five Finger Death Punch.
Puis direction à nouveau le site de Clisson du jeudi 23 au dimanche 26 juin 2022 avec Metallica mais aussi Nine Inch Nails, Scorpions ou encore Guns N'Roses, Alice Cooper, Avatar…
Programmation Hellfest 2022 – Part 1
Vendredi 17 juin 2022
MAINSTAGE 1

Deftones
The Dropkick Murphys
The Offspring 
Frank Carter and the Rattlesnakes
The Distillers
The Inspector Cluzo
Frog Leap
MAINSTAGE 2

Volbeat
Five Finger Death Punch
Opeth
Mastodon
Shinedown
Leprous
Soen
Ego Kill Talent
Laura Cox
WARZONE

Suicidal Tendencies
Youth of Today
Cro-Mags
Dog Eat Dog
Rudeboy
Splashot
Higher Power
In Other Climes


VALLEY

Electric Wizard
Baroness
High On Fire
Witchcraft
Black Mountain
Elder
ASG
Greenleaf
Abrahma


ALTAR

Death to All
At the Gates
Necrophobic
Grave
Gatecreeper
Cadaver
Enforced
Necrowretch
Tremplin Voice of Hell

TEMPLE

Mayhem
Abbath
Rotting Christ
Primordial
The Great Old Ones
Seth
Mephorash
Numen
Tremplin Voice of Hell
Samedi 18 juin 2022
MAINSTAGE 1

Megadeth
Rival Sons
Heaven Shall Burn
Knocked Loose
Crystal Lake
Fire from the Gods
Skillet
… 
MAINSTAGE 2

Deep Purple
Airbourne
Steel Panther
Alestorm
The Darkness
L7
The Dead Daisies
Galactic Empire
Joyous Wolf
Titan


WARZONE

Social Distortion
Anti-Flag
Agnostic Front
Reverend Horton Heat
The Toy Dolls
Frustration
Guerilla Poubelle
Lion's Law
Grade 2
VALLEY

Envy
The Vintage Caravan
Mono and the Jo Quail Quartet
OM
Pelican
The Picturebooks
Me and That Man
Duel
Point Mort


ALTAR

Sepultura
Sacred Reich
Flotsam and Jetsam
Exciter
Loudblast
Xentrix 
Rectal Smegma
Brutal Sphincter
Karras


TEMPLE

Vreid
Skald
Ensiferum
Taake
Kampfar
Einherjer
Helheim
Aktarium
Artus
Dimanche 19 juin 2022 
MAINSTAGE 1

Gojira
Korn
Maximum The Hormone
Jinjer
Code Orange
Lacuna Coil
Kontrust
Deadly Apples


MAINSTAGE 2

Judas Priest
Running Wild
Down
Michael Schenker 
Doro
Battle Beast
Sortilege
Tempt
Stengah


WARZONE

Sick of It All
Walls of Jericho
While She Sleeps
Deez Nuts 
Counterparts 
Jesus Piece
Moscow Death Brigade
Landmvrks
Glassbone
…


VALLEY

Killing Joke
Perturbator 
Life of Agony
Red Fang
Twin Temple
Inter Arma
Lysistrata
Vile Creature
Ecstatic Vision


ALTAR

Devin Townsend by request
Coroner
Hour of Penance
Dying Fetus
Misery Index
Monuments
Ingested
Dyscarnate
Exocrine

TEMPLE

Watain
Alcest
Borknagar
Gaahls Wyrd
Regarde les hommes tomber
Cân Bardd
1349
Pénitence onirique
Delivrance
Programmation Hellfest 2022 – Part 2
Jeudi 23 juin 2022
MAINSTAGE 1

Scorpions
Whitesnake
UFO
Thunder
Phil Campbell And The Bastard Sons


MAINSTAGE 2

Wardruna
Helloween
Danko Jones
Tyler Bryant & The Shakedown
Steve Vai
The Last Internationale


WARZONE

Rise Against
August Burns Red
Turnstile
Dragged Under
Worst Doubt


VALLEY

Jerry Cantrell
Hangman's Chair
Lowrider
IV And The Strange Band
Los Disidentes Del Sucio Motel 


ALTAR

Therion
Septicflesh
Insomnium
Tribulation
Crown


TEMPLE

Heilung
Zeal & Ardor 
Sólstafir
The Ruins of Beverast 
Lili Refrain
Vendredi 24 juin 2022
MAINSTAGE 1

Nine Inch Nails
Ministry
Skinny Puppy
Killing Joke
Health
Youth Code 
Dead Heat
Fauxx


MAINSTAGE 2

Alice Cooper
Megadeth
Kreator
Dragonforce
Blues Pills
Crisix
Disconnected 


WARZONE

Bad Religion
Goldfinger
Les Sheriff
Millencolin
Opium du Peuple
Pogo Car Crash Control
Dirty Fonzy
The Baboon Show
Sons Of O'Flaherty


VALLEY

Atari Teenage Riot
New Model Army
Earth, Godflesh
AA. Williams
Human Impact
Stöner
Okkultokrati
As A New Revolt


ALTAR

Decapitated
Deeds Of Flesh
Obscura
Gama Bomb
Benighted
Dropdead
Teethgrinder
Yarotz 
…


TEMPLE

Enslaved
Marduk
Moonspell
Ihsahn
Hjelvik
Dirty Shirt & The Transylvanian Folkcore Orchestra
Gaerea
Neige Morte 
Portrayal of Guilt
Samedi 25 juin 2022
MAINSTAGE 1

Guns N' Roses
Airbourne
Myles Kennedy and Company
Gary Clark Jr
Ayron Jones
Michael Monroe
Dirty Honey


MAINSTAGE 2

Nightwish
Epica
Blind Guardian
Eluveitie
Symphony X
Gloryhammer
Diamante
Existance


WARZONE

The Exploited
GBH
Discharge
Touché Amoré
The Rumjacks
Xibalba
Stereotypical Working Class
Martyrdöd
Hawser


VALLEY

Converge : Bloodmoon
Kadavar
Monkey3
Villagers Of Ioannina City
Hällas
My Own Private Alask
Molassess
Slift
Untitled With Drums 
…


ALTAR

Katatonia
My Dying Bride
Draconian
Fleshgod Apocalypse
Sorcerer
Betraying The Martyrs
Humanity's Last Breath
Nero di Marte
Dropdead Chaos


TEMPLE

In Extremo
Moonsorrow
Myrkur : Folkesange
Igorrr
Arcturus
Conjurer
Fejd
Autarkh
Les Chants De Nihil
Dimanche 26 juin 2022
MAINSTAGE 1

Metallica
Black Label Society
Avatar
Ugly Kid Joe
Alien Weaponry
Bokassa
Spiritbox 
Mammoth WVH
A Day to Remember


MAINSTAGE 2

Sabaton
Bring Me The Horizon
Bullet For My Valentine
Tagada Jones
Ill Niño
Novelists 

WARZONE

Comeback Kid
Suicide Silence
Madball
Lionheart
Terror
Judiciary
Year Of The Knife
Clowns


VALLEY

Monster Magnet
The Obsessed
Eyehategod
Thou
Ufommamut
Regarde Les Hommes Tomber vs. Hangman's Chair
Year Of No Light
The Atomic Bitchwax
20 Seconds Falling Man


ALTAR

Carcass
Napalm Death
Memoriam
Destruction
Vltimas
Blood Incantation
Demilich
Carnation
High Command 
…


TEMPLE

Mercyful Fate
Triptykon
MGLA
Archgoat
Cult Of Fire
Midnight
Svart Crown
Nytt Land
Sordide
La billetterie affiche complet (certains sites revendent des billets néanmoins). Tous les renseignements sont à retrouver ici.
Illustrations  : DR
[cc] Breizh-info.com, 2022, dépêches libres de copie et de diffusion sous réserve de mention et de lien vers la source d'origine